Tanja Liedtke Fellowship 2019
2019 Tanja Liedtke Fellow Geoffrey Watson
Geoffrey's words after finishing the residency:
"This residency has been one of the most intense experiences of my life. It has forced me to be extremely honest with finding out exactly what is important to me as an artist, and what kind of work I long to see onstage. Because of this commitment to process, emotional honesty, craft and and a conviction not to rely on gimmicks and theatrical conventions, Geoffrey's Corpse went in a completely unexpected direction to what I could ever have imagined."

About his work Geoffrey gave the following text:

"By way of a synopsis/explanation of this work: I have been continuing to develop my interest in the task of fully integrating the art forms of design and choreography into one another, to create new forms of work which can't clearly be defined as either. for this project, I had taken the imagery-based process that I spoke to in my application, and attempted to find ways of making the living body into a superficial/artificial image, that can be abstracted from the body and worn again by it as a costume or fashionable accessory."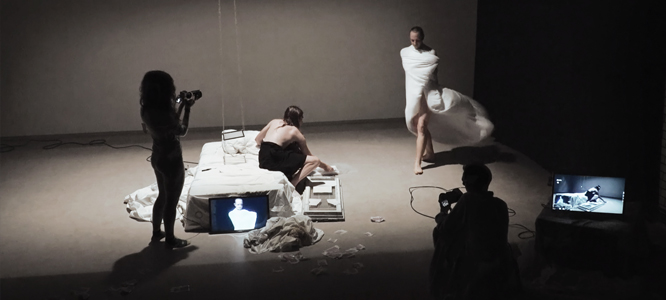 Geoffrey Watson in Geoffrey's Corpse. Photo: Agustin Farias