Clouds above Berlin (2009 Tanja Liedtke Fellow, Antony Hamilton and Melanie Lane) – 29 Aug to 2 September during Spring Dance at the Sydney Opera House.

Melanie Lane and Antony Hamilton, Black Project 1. Photos by A Zuckrow from the first development in Berlin 2009
Clouds above Berlin is a double bill of two works, one – Black Project 1 by Antony Hamilton (2009 Tanja Liedtke Fellow) and the other – Tilted Fawn - by Melanie Lane. Hamilton's work Black Project 1 was initially developed during his Fellowship program in Berlin in 2009. The fully produced work was premièred in Melbourne earlier this year and we congratulate both Antony and Melanie (his artistic collaborator) on their ongoing success with these works.
http://springdance.sydneyoperahouse.com
http://www.sydneyoperahouse.com/whatson/clouds_above_berlin.aspx

Life in Movement
Following the successful cinema release across Australia in April, Life in Movement (Closer Productions) continues to be seen in more venues and is due to be released on DVD.
Upcoming screenings in Germany:
LIM will be screened as part of Berlin's DOKU.ARTS (international arts documentary festival) on 6 October, which is also Tanja's birthday. This screening will take place in the Zeughauskino, which is housed within the German Historical Museum in Berlin. http://www.doku-arts.de/
And LIM will also be screened on 20 October as part of the Stuttgarter Film Nacht at the Volkshochschule (VHS), TREFFPUNKT, Rotebühlplatz 28, Stuttgart.
Set to an atmospheric soundtrack, the documentary is immersive and engaging, as it mimics the playfulness and poignancy of its subject. … A haunting exploration of creativity, its inspiration and impact, Life in Movement offers a tender and thoughtful portrait of an irreplaceable artist.
…Sarah Groves, film review published in Artshub, April 2012

Inspiring dance program:
Inspiring dance program at NAISDA Dance College, Australia

Craig Bary and Kristina Chan (2nd and 3rd from right, middle row), Kim Walker, Director of NAISDA (centre back), with students of NAISDA.
It was with great pleasure that the Tanja Liedtke Foundation was able to support the delivery of a selection of the inspiring dance program to the 3rd and Diploma year students of NAISDA Dance College last month. NAISDA is the Australian national college for Aboriginal and Torres Strait Islander dance education. Students of NAISDA come from Australia's urban, regional and remote areas to study both contemporary and traditional dance practices.
more...
__________________________________________________________________________________
inspiring dance program plus restaging of Tanja Liedtke's Slight at WAAPA, Perth in Western Australia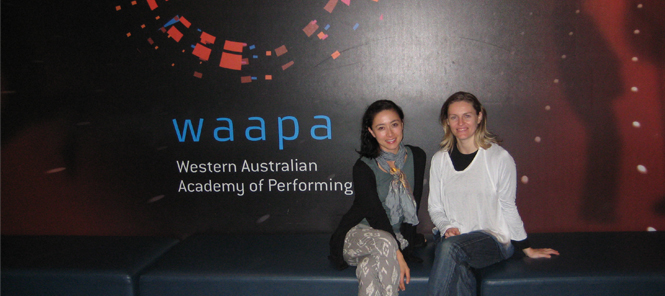 Kristina Chan, Amelie McQueen
The next inspiring dance program event will be at the Western Australian Academy of Performing Arts (WAAPA), the Edith Cowan University in Perth, Australia. The event will take place in July and November 2012.
For this project, Kristina Chan and Amelia McQueen will spend two weeks with the BA graduate year students - teaching, delivering workshops and also begin the remounting of Tanja Liedtke's work Slight I in July. Kristina will then return to WAAPA for 2 weeks in November for final the rehearsal period for Slight which is to be presented at the student showcase performance season at the end of 2012.
Slight was originally choreographed for, and performed by students of the Taipei International Dance Elite Academy in Taiwan in 2006, and was also performed (by the same Taiwanese students) at the 2006 Dance Creation event in Melbourne. Slight's presentation at WAAPA will be the first time an Australian cast will dance the work.
__________________________________________________________________________________
Paul White at Hochschule für Musik und Darstellende Kunst, Frankfurt.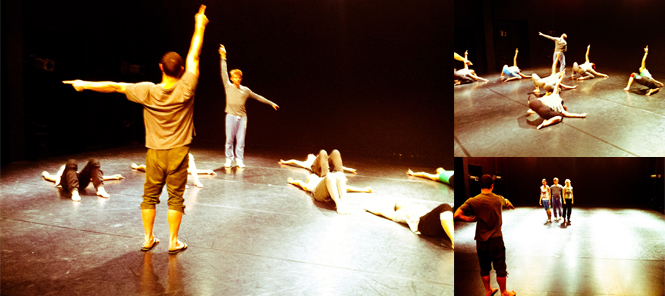 Paul White

Also in May of this year, Paul White returned again to the Frankfurt University Dance department to work with final year students in teaching and coaching a selection of excerpts of Tanja Liedtke's construct.
The results of this work were performed as part of a student showcase at the Gallus Theater in Frankfurt, and in July, will also be included in the annual Tanzmarathon which is produced by HfMDK.

Tanja Liedtke Fellowship 2013
The third Tanja Liedtke Fellowship program will take place in Frankfurt in mid 2013. Details will be announced within the next few months, including the call for applications.

Warm regards to all our friends and supporters,
Tanja Liedtke Foundation.