Winners Announced
17th International Solo Tanz Theatre Festival – a Tribute to Tanja Liedtke
The International Solo Tanz Festival is an annual event in Stuttgart, Germany. Last week, during the four days of this famous festival, eighteen newly created solo works, choreographed and performed by young dance artists from 13 different nations, were presented before a renowned jury of European directors and choreographers. The jury included Suzanne Linke, Cathy Marston and Katarzina Sitarz (a former prize winner at Solo Tanz and the 2011 Tanja Liedtke Fellow).
The 18 works presented at the festival were chosen from over 300 applications. Awards were given for both choreography and dance performance:
1st prize Choreography and 1st prize Dance: Andrea Costanzo Martini (Italy)
2nd prize Choreography: Martin Harriague (France) Dancer: Joachim Maudet
2nd prize Dance: Gilles Noel (Belgium). (Choreography: Min Hee Bervoets)
3rd prize Choreography and 3rd prize Dance: Sara Angius (Italy)
The public choices prizes went to Ross Martinson (Wales) and Milán Újvári (Hungary)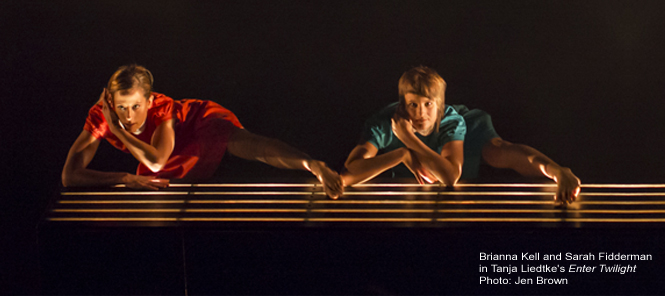 Tanja Liedtke's Enter Twilight (2004) in Sydney – 5 & 6 April 2013
Enter Twilight was commissioned by Tasdance in 2004. It was one of Tanja's first commissions and has recently been re-staged for the recent 10 Days on the Island Arts Festival, in Tasmania. Sol Ulbrich (Creative Consultant on the work back in 2004) assisted the company in bringing this work back to the stage, providing finite detailing to the rehearsal process. Enter Twilight is touring to Parramatta (Sydney) in early April, as part of Tasdance's Luminous Flux program. Enter Twilight explores the paradoxes that exist within life's rituals; the light, the dark, the virtuous, the evil.
A new work by Byron Perry, Light Entertainment, is also being presented as part of the Luminous Flux program.
The double bill program showcases two exceptional choreographers approach to transforming light into physical movement that is playful, vivid and highly original.
To purchase tickets for the Sydney season of Luminous Flux go to:
http://riversideparramatta.com.au/show/luminous-flux/

2013 Dublin Dance Festival – Life in Movement screening and Australian double bill – Big Island/Small Island.
The Tanja Liedtke Foundation is proud to be supporting the 2013 Dublin Dance Festival, which will feature a screening of Life in Movement at the Irish Film Institute during the Festival, to celebrate and remember Tanja's work and her contribution to the new generation of Australian dance. Tanja's good friend, choreographer and costume designer Theo Clinkard will introduce the screening on 26 May at 2.00pm. For tickets go to:
http://www.dublindancefestival.ie/festival-performances/life-in-movement/
The Tanja Liedtke Foundation is also supporting the presentation of the Big Island/Small Island showcase, featuring the work of two rising stars of the Australian dance scene - Stephanie Lake and Larissa McGowan. Big Island/Small Island is being presented from 24 to 26 May. For Tickets go to:
http://www.dublindancefestival.ie/festival-performances/dual-skeleton/
Best wishes to all our supporters and many thanks and congratulations to all who have worked so hard to present these projects.
Thank you and warm wishes to all our supporters,
Tanja Liedtke Foundation.