Life in Movement – now screening in Switzerland.
Following the very successful cinema release of Tanja – Life in Movement in Europe in 2013, where it was screened in over 60 cities and towns in Germany, this documentary (subtitled in German) will now be seen across Switzerland.

The Swiss premiere took place in Zurich on 2 May 2014, where the audience included Liedtke family members and friends. Gerlinde Liedtke welcomed the audience and spoke about the work of the Tanja Liedtke Foundation.

For full list of Swiss cinemas showing Tanja - Life in Movement:
http://www.tanjalifeinmovement.de/index.php?page=termine

Reviews of the film have been again excellent - and we are thrilled that more people are able to share Tanja's story and be inspired.

Life in Movement is also widely available on DVD from a number of online shops in Australia, including Closer Productions, the directors of the film. In Germany the DVD will go on sale end of 2014.
http://www.closerproductions.com.au/shop/products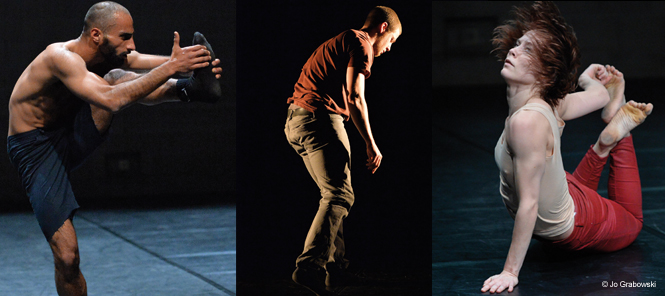 Left: Tom Weinberger. Middle: Josh Martin. Right: Annamari Keskinen.
18th International Solo-Tanz-Theater Festival - eine Hommage an Tanja Liedtke, Stuttgart 2014.
This wonderful event offers young dance artists the chance to show their solo performance and choreographic work to an audience, and is well established, having been held for the past 18 consecutive years. And the event continues to grow, with hundreds of applicants from all around the world vying for a place in the finals and a chance to tour their work to South America and throughout Germany.

This year's competition was again of a very high standard. Here are the results:

1st prize Dance and 2nd prize Choreography:
Nemek, choreographed and performed by Tom Weinberger (Israel).

1st prize Choreography and 2nd prize Dance:
Leftovers, choreographed and performed by Josh Martin (Canada).

3rd prize Choreography and Audience Prize:
P=mg, choreographed and performed by Jann Gallois (France).

3rd prize Dance:
Cold Bright She, performed by Annamari Keskinen (Finland) and choreographed by Shannon Gillen (USA).

Public 's first prize:
Trilonanga, Choreographed and performed by Hemabharathy Palani (India).

Public's final choice prize:
P=mg, choreographed and performed by Jann Gallois (France)

Video dance prize:
Maa Labyrinthe, choreographed and performed by Jain Souleymane Kone (Burkino Faso).

We congratulate all the young artists for their efforts and wish them success for their current touring program in Brazil.
For dates and venues: http://www.solo-tanz-theater.de
Best wishes to all our supporters,
Tanja Liedtke Foundation.
______________________________________________________________________________________________________________

In Australia - Tax deductible donations to the Tanja Liedtke Endowment can be made by credit card or cheque.
Simply download the form on the Tanja Liedtke Foundation website (found on the Donations page),
and send with your donation to;
Perpetual Foundation - Tanja Liedkte Endowment, GPO Box 4172, Sydney 2001.
In Germany - either send cheque to the Tanja Liedtke Stiftung c/o Deutsche Bank AG, Private Wealth Management, Stiftungs Office,
Mainzer Landstraße 178-190, 60327 Frankfurt a.M. or direct transfer to
Tanja Liedtke Stiftung, Kontonummer: 700761001, Deutsche Bank AG Frankfurt a.M.,
BLZ: 500 700 10, IBAN: DE 95 500 700 100 7007610 00.