Tanja Liedtke Foundation commisions research project by INSA-CONSULERE Dancing is "in".
A significant majority of Germans (76%) is convinced that dancing is very healthy. 56% of the German population can dance, but still more women (65%) than men (46%) like to dance. These are the results of a representative survey by the opinion research institute INSA-CONSULERE on behalf of the Tanja Liedtke Stiftung. 64% support the idea that dancing promotes integration and social solidarity. Only 8% know that next year will be the "year of dance" in Germany. Those surveyed agree that dancing should be promoted. 66% believe that children should have the opportunity to learn how to dance in school. Interesting facts: 12.4 million people like contemporary dance and 15.5 million say it is part of Germany. This research project was made possible by Mrs. Dr. Christiane Weickart, Tanja Liedtke Foundation wishes to thank Mrs Weickart for her generosity. The research was facilitated by INSA-CONSULERE, a research institution based in Erfurt, Germany. insa-consulere.de
---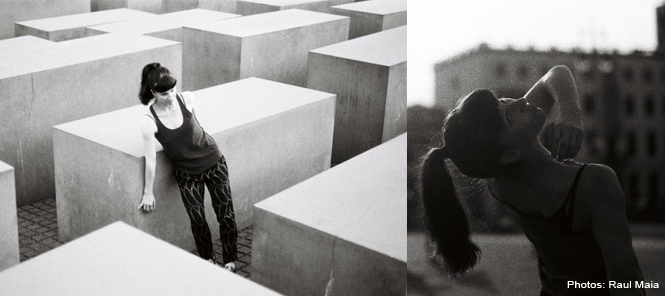 Gabrielle Nankivell, Tanja Liedtke Fellow 2015 - Ghosts of Berlin. More ...

Tanja Liedtke Foundation supports dancer/choreographers Thomas Bradley (Sydney) and Shian Law (Melbourne). More...

Three pilot dance projects in Essen around the World Heritage Zeche Zollverein, initiated by the Tanja Liedtke Foundation. More...

Ballett Gesellschaft Hannover hereby invites applications for the 30th International Competition for Choreographers. More...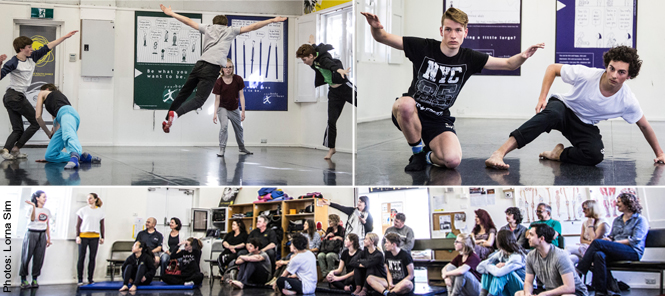 'inspiring dance' at QL2, Canberra. More...

20. Internationales Solo-Tanz-Theater Festival - applications are open.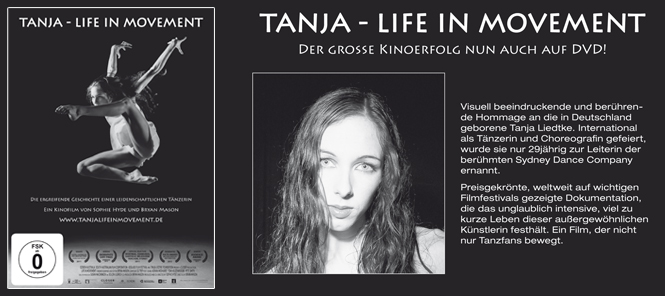 Tanja – Life in Movement DVD now available with German subtitles.
For more information go to www.tanjalifeinmovement.de
The DVD (with German subtitles) can be ordered from Karin Kaper Film, Berlin, www.karinkaper.com, Price €19.90, Phone: (030/61507722) or by Email: kaperkarin@web.de


Tanja Liedtke's construct (full-length version plus Study Guide) is available through:
http://www.ontheboards.tv/performance/dance/construct
Our world expressed through the theatre of dance.
Fresh ideas, adventure, challenge and collaboration.
The Tanja Liedtke Foundation was established in 2008 to honour the dancer and choreographer, Tanja Liedtke.
The Foundation's purpose is to preserve the artistic legacy of Tanja Liedtke, support the development of contemporary dance theatre and foster Australian/ European artistic
connections.