Convergence at ADT
It was with great pleasure to see Convergence life on stage with the work from the choreographer in residency at the Tanja Liedtke Studio at ADT.
The performance started with the work of the three winners of the International Choreographic Competition Hannover and was followed by:
Iti meaning Baby in Anangu P Y  language, choreographed by the Members of the South Australian First Nations Dance Collective (SAFNDC) and led by Artistic Director Gina Rings. It was a mesmerising performance.
Followed by Adrianne Semmens (Australia) with Immersion, created for and danced by the ensemble of ADT. Immersions, centred on water draws on Adrianns identity as a proud descendent of the Barkindji people.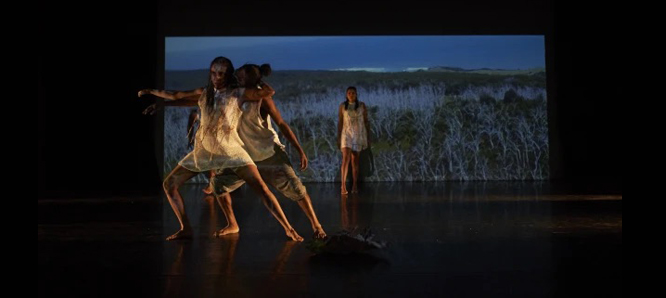 Immersion by Adrienne Semmens Dancers – ADT (Photo: ADT)
Garry Stuart said: Bringing together acclaimed choreographers from four continents, Convergence comprises five works from local First Nations and international artists, including ADT's 2021 Associate Artist, Adrianne Semmens, and the three most recent winners of the International Choreographic Competition Hannover: Tu Hoang (Vietnam), Oscar Buthelezi (South Africa), and Philippe Kratz (Germany). This shows how technology advances could keep international choreography possible. We are so much looking forward to the presentation. Sponsored by the Tanja Liedtke Foundation.