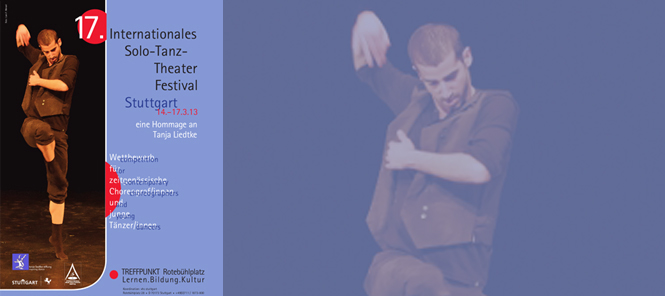 17th International Solo-Dance-Theatre Festival Stuttgart: A Tribute to Tanja Liedtke.
This unique and prestigious festival offers the opportunity for young choreographers and dancers from all over the world to show their creative work in solo practice. The finals of the event is to be held from the 14 to 17 March 2013 in Stuttgart.
Applications are open until 11 November 2012. For more information go to:
www.solo-tanz-theater.de

Life in Movement
On the 20th of October, Life in Movement will be screened at the Volkshochschule, which is at the Rotebühlplatz, Stuttgart during the Filmnight which is organised by Stadtmagazin Lift Stuttgart. For more information go to www.stuttgartnacht.de
On the 6th of October, Tanja Liedkte's birthday, Life in Movement was screened as part of Berlin's DOKU.ARTS festival. While Australia has been fortunate to have already had a national cinema release, the film has to date only been seen by Festival or special event patrons in Europe.
http://www.doku-arts.de/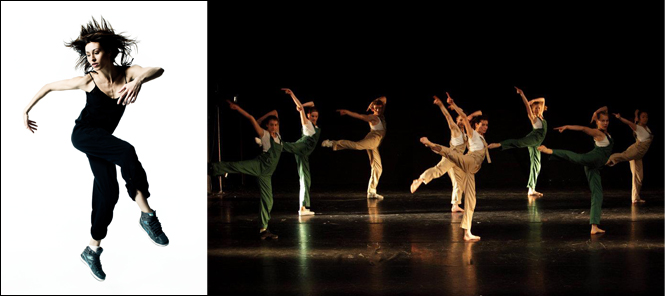 Left: Fanni Varga. Right: Fanni Varga performing an adapted excerpt of construct with students of HfMDK.
Fanni Varga, student at Hochschule für Musik und Darstellende Kunst (HfMDK) to Australian Dance Theatre (ADT)
With the support of the Tanja Liedtke Foundation, in partnership with Frankfurt's HfMDK and Adelaide's ADT, Hungarian born, Fanni Varga will take up an internship at Australian Dance Theatre in Adelaide this November. Following Paul White's guest teaching engagement with HfMDK, Fanni became extremely inspired and interested in experiencing something of the Australian contemporary dance scene. After sending examples of her work and some discussion with Garry Stewart (ADT Director) and Elizabeth Old (Associate Director) she was invited to take up an internship with the company in November and December of this year.
After studying Economics and Business administration at the Andrassy György School in Hungary, Fanni embarked on the BA Dance Course at HfMDK in 2009. She is currently in her final year.

16./17.Nov.2012 Gala of winners of International Solo-Dance-Theatre Festival 2012
– a Tribute to Tanja Liedtke –
Stuttgart will host two performances of the Gala of the six winners of the 2012 International Solo-Dance-Theatre Festival – a Tribute to Tanja Liedtke, which was held in March 2012.
The Stuttgart Gala will be presented on 16th and 17th of November, at the VHS Treffpunkt Rotebuehlplatz Theatre. The program will then tour to Heidelberg, Karlsruhe, Augsburg, Regensburg, Ulm and Lindau. Among the works to be presented will be the work awarded the first prize for choreography, Leda, choreographed and danced by Rodrigue Ousmane (Chad) also on the program will be Body Song by Australian Emma Sandall and danced by Cass Mortimer Eipper.
For more information go to:
http://www.solo-tanz-theater.de/internationales-solo-tanz-theater-festival/

NEWS FROM AUSTRALIA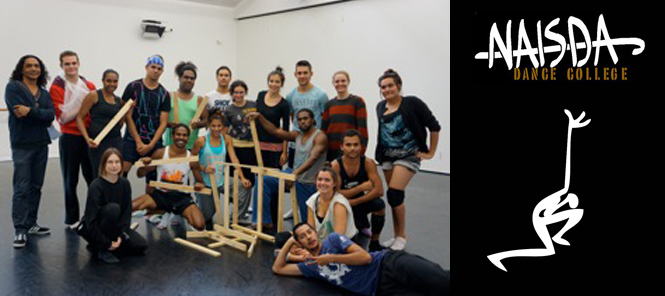 Lisa Griffiths (lower left) and Amelia McQueen (second from right in upper row) with NIASDA students.
Raymond Blanco, Dance Coordinator (far left). Photo: Shane Carroll
Second inspiring dance residency at NAISDA
After the first Inspiring dance residency at NAISDA last May, a second four day residency was held this October. Amelia McQueen and Lisa Griffiths worked with 1st and 2nd year students, who as Indigenous and Torres Strait Islander developing artists, come from all over Australia. This workshop program draws on the ideas and the creative tasks that were explored by Tanja and her collaborators in the making of the major works Twelfth Floor and construct. Amelia and Lisa also taught dance technique sessions. Both residencies at NAISDA are projects developed by the Tanja Liedtke Foundation (Germany), with additional support through the Tanja Liedtke Endowment (Australia).


Stefania Campo, Anyah Siddall, Julius Szacsvay, Alexai Bernard – the two casts of To My Suite. Photo: Shane Carroll
Tribute to Tanya Pearson (Mrs P) – performance of Tanja Liedtke's To My Suite.
An amazing tribute event was held on 5th and 6th August to honour the renowned Australian ballet teacher, Tanya Pearson, for her 50 years in teaching ballet. It was an international event, with many of Mrs P's former students returning from all around the world to dance at the Gala. In a very special double tribute, current students of Mrs P's performed Tanja Liedtke's To My Suite (2000). Kristina Chan and Craig Bary were responsible for restaging the work and rehearsing the dancers in the charming – and challenging – choreography of To My Suite.


WAAPA students rehearsing Tanja Liedtke's slight in July 2012.
slight to be performed at WAAPA graduation performances in Perth.
Tanja's intriguing work slight was originally made for students of the International Dance Elite Academy Taipei in 2006. This year, in November, the work will be performed by the graduating students of the Western Australia Academy of Performing Arts (WAAPA), BA Dance course. Kristina Chan and Amelia McQueen have been responsible for teaching and rehearsing the work as well as supervising the stage and costume design.
The season premières on 17 November at the Geoff Gibbs Theatre, Perth. The re-staging of slight is a project developed by the Tanja Liedtke Foundation (Germany) in partnership with WAAPA, with additional support through the Tanja Liedtke Endowment and the Meredith Brooks Endowment.
Thank you and warm wishes to all our supporters,
Tanja Liedtke Foundation.