inspiring dance project
Germany
'inspiring dance' at HfMDK
May 2011:
I would like to take this opportunity to thank all participants in the inspiring dance project and congratulate them for their dedication and exceptional commitment to this project.
The Tanja Liedtke Stiftung in partnerhsip with Hochschule fur Musik & Darstellende Kunst is very proud to have provided this opportunity for the students of HfMDK, and I would especially like to thank Professor Dieter Heitkamp who has enabled the work of Tanja Liedtke to be experienced and enjoyed by student dancers and audiences alike.
I would like to thank Australian artists Kristina Chan and Paul White, who taught the repertoire selections of Twelfth Floor, construct and To My Suite to the students, in a way that was so thoroughly sensitive to the integrity of the works. And finally I would like to thank the HfMDK students who performed Tanja's works – for taking on the challenge and performing the works with such a love of dance art and its power to enthral. It was very rewarding to witness the audience's very positive response through their applause and very obvious enjoyment. TLF is so pleased that this project has been such a success and we hope to repeat the project in future.
Gerlinde Liedtke – Chair, Tanja Liedtke Foundation

We hope you enjoy these photos:

Artists front: Eileen Nicole George, Philipp Schumacher
Artists back: Alina Jaggi, Sho Takayama, Kaho Kishinami
Foto: Valentin Fanel


Professor Dieter Heitkamp
Direktor des Ausbildungsbereichs Zeitgenössischer und Klassischer Tanz
Hochschule für Musik und Darstellende Kunst
Foto: Valentin Fanel


Kurt Liedtke, Gerlinde Liedtke, Paul White

---
The second stage of the 'inspiring dance' project from 2010, will occur in May 2011. In October 2010, the Tanja Liedtke Foundation, in partnership with Frankfurts Hochschule fur Musik and Darstellende Kunst hosted Paul White and Kristina Chan to spend two weeks teaching classes and Liedtke repertoire to the graduate students of the University. This year, in May, Paul will return to Frankfurt to re-rehearse some of the repertoire material that was taught to students in 2010. The work will then be presented at the students annual performance event on 20 – 22 May.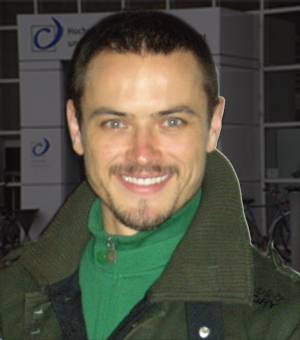 Paul White
---
Australia
'inspiring dance' at the State Festival of NSW Department of Educationand and Training
In September 2011, the inspiring dance program was delivered for the first time, to secondary school students in Australia, as part of the NSW Department of Education and Training – State Dance Festival.
Kristina Chan and Lisa Griffiths (who performed in both Twelfth Floor and construct) taught Master Classes which included teaching an excerpt of Tanja Liedtke's work construct.
The inspiring dance program is unique series of dance/theatre workshops for secondary school and tertiary students.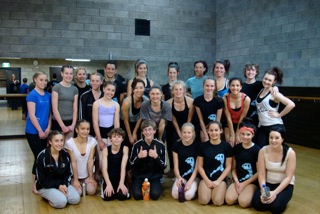 Kristina Chan & Lisa Griffiths (centre) with students at the NSW State Dance Festival.
The program was initiated by Sol Ulbrich, Tanja's long time creative associate and was developed and structured by a group of five acclaimed Australian dance/theatre artists who collaborated closely with Tanja on many of her choreographic works – Kristina Chan, Paul White, Anton, Amelia McQueen and Joshua Tyler. These artists have also worked with many of Australia's leading dance companies and choreographers and are also creators in their own right through independent projects and research.
The program brings the aims and purpose of the Tanja Liedtke Foundation into the artistic space of young artists working with experienced creators, and celebrates the artistic work of Tanja Liedtke.
In developing the inspiring dance program, the collaborating artists set out to construct a program of interesting and challenging dance/theatre workshops that focus on the choreographic tools and creative techniques developed and practiced by Tanja Liedtke and themselves, during the time they worked together.
The overall aim of the program is to offer students expert guidance in developing skills and exploring the options and processes involved in creating art that is physically orientated.
The inspiring dance program will also be a central part of the 2011 Dance Compass event in December 2011 in Sydney. Dance Compass brings Australian university dance graduates together for an intensive workshop and industry orientation program. At this event, Amelia McQueen, Josh Tyler and Craig Bary will deliver a series of Masterclasses and creative development workshops that focus on Tanja Liedtke's works and the process that drove their creation.