2011 TLF Fellowship report
Melbourne International Airport, here I am. After twenty-four hours flight to the other side of the globe I finally arrived to my destination – Australian land. Enormously swollen from the changing cabin pressure, dried up from ubiquitous air conditioning, and jet lagged due to the time difference, I couldn't get rid of the feeling that I'm standing down side up. Adding to that everything seemed strangely mirrored as the traffic direction flows on the left, not on the right side as I'm used to. All my senses were confused, my understanding of the world had to quickly catch up with new data of unknown surroundings and in the middle of that process, I tried to find myself back in the body that apparently didn't settle down yet. This roller coaster of physical, mental, cultural and some other unexplainable experiences did not calm down till the end of my stay in Australia.  The Tanja Liedtke Fellowship has started…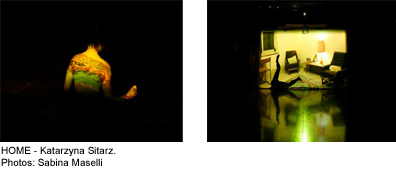 15 MARCH 2011- MELBOURNE
The very first week of my Fellowship began in Melbourne – the birthplace of Heidelberg School, Australian football and Shuffle dance. I immediately immersed myself in traversing its cultural diversity discovering the history and creativity exposed in the city's lane-ways, galleries and other sometimes very surprising locations. – The Birrarung Marr precinct along the Yarra River, Scar: A Stolen Vision -a major collaboration of Indigenous artists, and the City Lights Project were among many stirring public art projects.
The Tanja Liedtke Fellowship started by diving into the Melbourne performing arts scene, through Dance Massive Melbourne, which was taking place at the time. This huge and literally massive national dance platform presented more than twenty performances and events, various workshops where you could "dance your heart out", and a National Dance Forum for lively discussions and debate. By purchasing a second hand bike from an environmental community CERES (which by the way was an experience itself) and a $5.00 helmet which to my great surprise was an obligatory item, I perfectly equipped myself for fast, convenient and slightly hazardous getting around.
Navigating myself from Arts House in North Melbourne, where I saw among the other performances, the provoking and darkly humorous Branch Nebula's Sweat, to Malthouse Theatre where Gideon Obarzanek staged his deeply involving (and to me very ironic) solo performance Faker, I was crossing the whole lively CBD and the Yarra River – enjoying the vibe of the city. In the extremely beautiful and unique theatre location, the Meat Market, I had the chance to witness a highly exceptional and really original piece by Michelle Heaven, Disagreeable Object. This bizarre and hilarious work was a real highlight. I also attended No one will tell us… by Rosalind Crisp, Andrew Morrish and Hansueli Tischhauser and have to admit that their brilliant collaboration inspired me, and triggered my imagination to a high level. I must also mention Anthony Hamilton's Drift, whose "drive-in" project saw the audience viewing the show from inside their cars. Drift was presented at a slightly remote urban location of Melbourne city. It was great opportunity to see the work of Antony, the first Tanja Liedtke Fellowship recipient, and to understand the diverse artistic directions in which we are venturing.
In the second week of the Fellowship I started my creative residency – the  enterSpace  part of the Fellowship, firstly at Lucy Guerin's studio and then at Arts House, North Melbourne.
My goal was to explore different ways of working and connecting on a professional artistic level with local emerging or established creators (visual, stage design artists, composers, performers, writers). I was more than sure I would meet open-minded, creative and 'ready to collaborate' Australian peers from the field, and wanted to gather a small group where different cultural, environmental and educational backgrounds could interact with each other. The starting point was the concept of HOME and the question – What is  (HOME) exactly? Where is it? What does it consist of? Is it an abstract idea, a mental symbol, a feeling, a relationship, a state of being? How is it represented in our world and for each single one of us? What does it mean for me/us? Do we need it? And if so, how can we make ourselves at home? I wanted to investigate this idea through research, creative process and exchange and I was curious to explore it in movement, text, visual work, sound, and/or performance practice.
For this adventure I invited local visual media artist Zoe Scoglio to work with me. I familiarised myself with her work via the Internet and found it fascinating. As we did not know each other personally, and just exchanged a couple of e-mails before my arrival, it was truly exciting to meet her in Melbourne. This "blind date" turned into very fruitful conversation and from the first moment we embarked together on a journey into unknown. After one week of intense exchange and research around the idea, in order to somehow organise our really sundry discoveries, we came up with different structures and strategies for framing. The subject turned out to be so broad; we hesitated where to continue from. Then, to my happiness, Sydney-based actor/writer/director, Joshua Tyler, whom I had a pleasure to see on stage during Dance Massive, joined us for couple of days. It was great to have another perspective on what we were doing. He proposed lots of useful solutions sharing his knowledge and experience and supported us with writing and directing skills, bringing the research into new zone. For the last week of the creative residency I invited another Australian independent artist Matt Cornell to join us. (I had met Matt in the previous year in Europe and decided to reconnect again). Generously sharing his ideas, he approached the theme more from audible point of view so we explored different sources and combinations of sound, vocal and musical spheres. 
I was very grateful for this creative crew, as they radiated with openness, spontaneity and readiness to venture into some devious unexposed nooks of possibilities. Having funny misunderstandings that challenged my communication skills, sharing sushi, (which after two weeks I could not look at anymore,) buying ponchos, searching for wearable tents (for the developing work) and enjoying sunny days was part of the process and should not be underestimated.
All these creative flows led to a compilation that had a public showing on the last day of the residency.  As the goal was not to deliver something polished and defined, but rather present our unshaped discoveries and inspire further questions, we had fantastic opportunity to test our ideas on a larger group and receive some constructive feedback. I found it extremely useful and beneficial. As well, I need to mention how supportive, helpful and friendly the whole technical and administrative crew of both Lucy Guerin's studio and Arts House was. We could play around with spaces and equipment, work till late nights or start in the early morning, having almost 24 hours access to the studios. We could request unplanned artistic needs and basically feel free to experiment to a degree that I would never have predicted.  I am very thankful for this, as it was really great luxury.
11 APRIL 2011 – SYDNEY
Spending one month in Melbourne was a marvelous experience, however my curiosity rose about the rest of the country and the other cities. The Tanja Liedtke Fellowship also provided a fantastic opportunity to spend three weeks in Sydney, as part of the creative development of choreographer Lucy Guerin, during her first development of collaboration with Company B Belvoir. For three weeks I was immersed in the research involving six very diverse and inspiring dancers and actors, who under the guidance of Lucy and director Simon Stone exchanged their practices in order to shift everything into another dimension of meanings and relations. At the beginning I was very welcome to physically participate in every experiment, however in the later stage I stepped out from that in order to have a better overview on what was happening, sharing my observations when needed. I realised how vulnerable ideas are, in the very first steps of creative research. Lucy was patiently giving them time to evolve, develop and surprise. By repeating some tasks all over again, shifting them slightly into different directions, she was diving deeper and deeper, shaping their reality the way she found it interesting. Witnessing this made me reflect on my own processes and I became aware which ingredients I would like to strengthen.
Being very curious about Sydney performing arts scene, I had a chance to attend couple of shows at Carriage Works, Belvoir Theatre and Sydney Theatre, which differed from the aesthetics of the Dance Massive Melbourne program. I was also very warmly welcomed to take a class with the Sydney Dance Company, whose marvelous dancers I could appreciate on stage the night before.
These and many other stimulating and valuable experiences were arranged by or shared with fantastic people with whom I worked, or whom I met on my way and I find no words to express my enormous gratitude to all of them. My time in Australia wouldn't be even vaguely as colourful and joyful as it was, without all of them.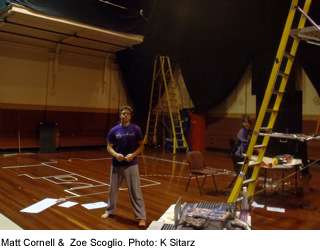 TRAVEL
After all my artistic endeavours I decided to travel independently through Australia to discover other faces of it, deepen my understanding of its diverse culture and connect with the people encountered on the way.
First station, Tasmania, was interestingly, very different from the main land. I fell in love with amusing views, giant oak trees and little nasty Tasmanian Devils. I spent lots of time with locals, who shared stories from the land and their own personal experiences that gave me a great inside look to what's happening there and explains a little how their mentality is being shaped. One of my destinations in Hobart was the recently open MONA – Museum of Old and New Art, which was very loud in artistic communities in Australia. After my visit there I understood why. Highly unique, eclectic, fun and challenging experience! The very modern building of MONA stands on a headland jutting into the Derwent River and sinks several layers down into the ground, so has a well-managed impact on the surroundings.
The content of the museum is a personal collection of the owner and curator David Walsh (who by beautiful coincidence I met personally) and does not pretend to represent anything else than his personal taste. I found there some of the most disturbing and confronting works I have ever seen and have to admit that the collection is really impressive, moving and very inspiring. Instead of sticking labels on the walls, every visitor is handed an electronic touch-screen device (like an iPod) and a set of headphones. It locates you within the museum, informs about the artwork you are looking at and gives an academic background, as well as audio records of interviews with the artists. It provides also personal comment from one of the curators or David Walsh himself, which I found interesting and often very funny. Best of all you can save your tour and have it emailed so that you can go back, think and learn more about what you have seen. Fantastic solution for obsessive note takers. I am enormously happy I did not miss this experience!
Traveling through the island, among the other places, I passed by famous Port Arthur, where I have learnt a lot about Australian convict history. In Launceston I accidentally had opportunity to participate in a local peaceful strike against pulp mill building, which would have enormous negative impact on the natural environment and quality of the water in the river. Later on, while marching through the streets of the city with few thousands of other people I got know that this act was also an expression against contestable decisions taken within the democratic parliament of Tasmania.
Leaving Van Diemen's Land I headed towards the "Red Centre" of Australia, Alice Springs, where I hoped to learn more about indigenous people, their tradition and art. By visiting places like famous and iconic Uluru or Kata Tjuta I was amused not only by breath-taking beauty of the nature but also reach history and cultural intensity of these areas. I connected with people who shared many personal stories, reflecting on their heritage and bringing different light into my knowledge on current situation. My fascination with this ancient culture rose every day and I've decided to gradually move north, traversing the deserted country with other travelers by rented caravan. Reaching places like Kakadu or Litchfield National Park was an absolute paradise, where sleeping under the sky, waterfall bathing, observing the animals in their natural habitat or learning bush survival skills from Aborigines where some of the highlights. Thinking back about the concept of HOME and our research, these treks gave me good inside into their nomadic life and brought new reflections about what home could be or mean. Today I see how essential for my research was to be in Australia. Far away from own comfort zones and familiar territories I could not take anything for granted. From the very beginning, traveling through this vast country made me reflect a lot on Europe in general, my own environment, culture, mentality, origin. I guess I also revalued some of the ingredients my idea of home consist from…
AFTER THOUGHTS
Being a Tanja Liedtke Fellowship recipient has been an honour and a true privilege. Without doubt, it was a life-changing experience.
Even though I never a chance to meet Tanja, by collaborating with Joshua, who worked with her on Twelfth Floor, visiting places like Sydney Dance Company, where she was about to take over artistic leadership, or meeting and chatting with her old friends who shared with me some of their great memories, I could sense the energetic spirit in everything she was a part of. I grasped it and carried on with it.
The Tanja Liedtke Fellowship offered not only a broadly reaching and outstanding program, but also great flexibility towards my own ideas and initiatives. It was really up to my own capacities, as to how much I could benefit from it, learn and share. I am very happy I could create possibilities with the other Australian artists, using my own almost till the limits.
Thanks to the Foundation I could embark on a magic journey of an artistic research and cross-cultural exchange, where every day was a challenge and experience on many different levels. I discovered the whole new world and it feels like my understanding of it expanded into new dimensions I was never aware before. It forced me to listen even more and put me to the state of highest alertness and openness in order to be able to receive it as it is, every single moment so special and unique. To be honest it wasn't always easy, sometimes even frustrating, especially in the times when omnipresent newness bombarded me from all over, but after all these extremely valuable experiences, I am left with a deep trace in my life which has seeded enormous potential for the future…
Katarzyna Sitarz – August 2011
Short extract from Katarzyna's creative development entitled HOME.