Sydney Dance Company's Pre-Professional Year dancers experience TLF 'inspiring dance' program
The Sydney Dance company is one of Australia's première contemporary dance companies and their Pre-Professional Year course offers a very unique course for aspiring dancer/choreographers. These young dancers focus an entire year on working with renowned choreographers from around Australia as well as from overseas.
In May, we were very pleased to support this group of young dancers through our 'inspiring dance' program, where they experienced three full days with Kristina Chan and Amelia McQueen studying Tanja's work, her creative practices and her repertoire.
The experience had an enormous impact on the group, who had only heard about Tanja but not really examined her work in depth. Kristina and Amelia, who led the workshop, are not only exceptional artists themselves, but they are wonderful mentors to young dancers. It was an experience that was very special to witness and something that the young artists will never forget.
Read the comments from some of the young artists: 
'Thank you so much to all involved with presenting us with this opportunity. It is an experience I will carry with me throughout my life and career'. 
PPY dancer. 
'Because of the Tanja Liedtke workshop I am now dancing with a heightened sense of presence, creativity and sensitivity. Though we only spent 3 days in Tanja's world, the group camaraderie and spirit it created will stand the test of time. Thank you for allowing the next generation to appreciate and delve into Tanja's creative mind.'
PPY dancer 
'Without experiencing this workshop, I may not become the confident artist I believe I now can become. It has opened up another world with endless possibilities for me'.
PPY dancer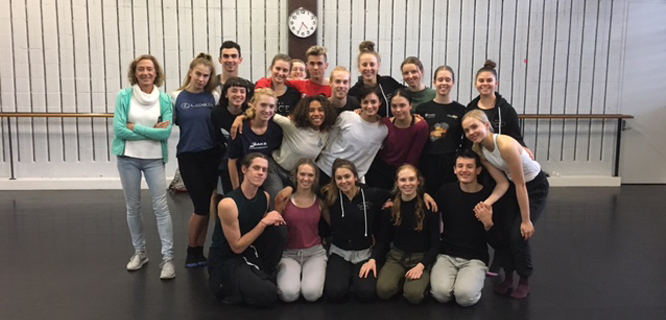 2017 Pre-Professional Year at Sydney Dance Company.