BAD LUCK – short dance film with Tanzbar_Bremen from Jan Eilhard
Tanja Liedtke Foundation is proud to support this dance film.
Synopsis
It is the chance of life for a director with trisomy 21 and his ensemble. With their dance musical, they are the focus of a larger dance festival with a high public interest. But one day before the performance, one of the main actors sprained his leg. The disappointment of the ensemble is great. Feverishly, a replacement is sought. But does the very heterogeneous group, whose members sometimes struggle with feelings of hurt love, anarchic renitence and lack of self-confidence, manage to make a joint decision here? A dramatic day, poetically danced, in the midst of a diverse group dynamic that says something about the status 'disabled' and at the same time tells something about each of us.
Jan said: Dance and inclusion play an essential role in the artistic work of Tanja Liedtke, who has sustainably impressed me through films such as "Tanja – Life in Movement" or "Cost of Living" and whose choreographies served as a source of inspiration when working on Bad Luck. Dance theatre is predestined for the artistic focus on the body and its special physical movements. People with disabilities can be an enormous enrichment and contribute to innovations in contemporary dance.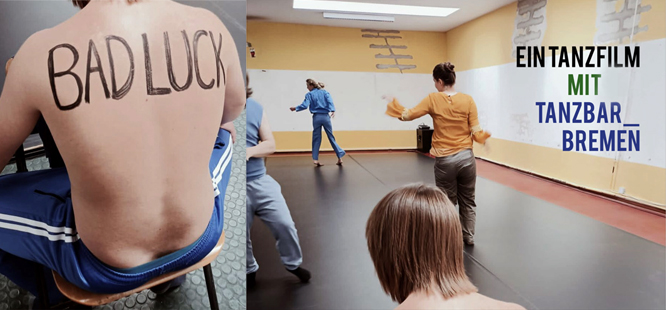 BAD LUCK with Tanzbar_Bremen from Jan Eilhard, Photographer: Corinna Mindt