danceweb Vienna, two scholarships 2022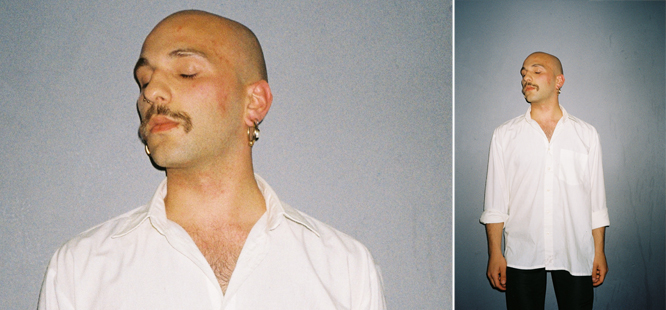 Caner Taker, Photographer: Spyros Rennt
1. Caner Taker, report 
With the support of the Tanja Liedtke Stiftung, i spent five weeks at Impulstanz Vienna being part of the danceWEB scholarship program. For that i am grateful. i entered the festival with a closed mindset and opened up during the weeks much more to my peers and my teachers. It was wonderful having an intensity of workshops, performances and social gatherings in a row and working as a filter and input. At the Aerial Silk Workshop i discovered how somatic entanglements can interact with two silks. At the Pole Intensive, i learned about sassyness and the image from outside, the coldness of the metal of the pole, but also being together in shyness. Ghost Dancer opened up my world to music production, while Trajal Harrel was the first person that made me cry in the theater (thank you for that). Seeing vulnerability on stage, in the studio, among my peers and the staff is a quality of life that i started to appreciate and want to continue to follow. For now i'm focussing on the output, digesting all the sensations, inventorizing thoughts, archiving material. I wouldn't have the ability to dig into this state of mind without the support of the Tanja Liedtke Stiftung, which i'm forever thankful for.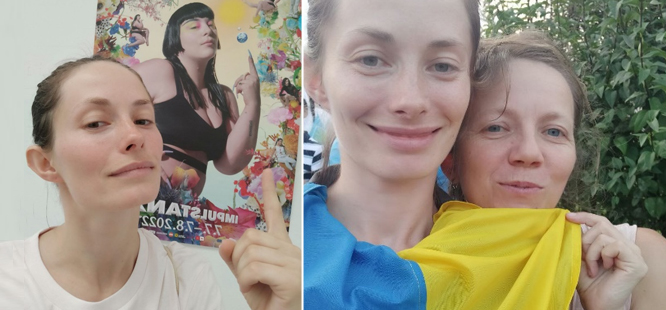 Photo taken by Mariia Bakalo in  Vienna with Katya Chizhaeva (ukrainian-american dancer who took part in ImpulsTanz workshops as a private individual)
2. Mariia Bakalo report
ImpulsTanz festival has become one of the most efficient and rich source of my dance studies in terms of qualified and diverse practice and interaction with many approaches to understand and build art. Over my stay in Vienna and due to the ImpusTanz festival I had a chance to see 27 highly decent and exceptionally interesting performances, to try out my best with 17 teachers and their dance practices/research projects/workshops, to visit 6 museums. Overall, my critical mind undergone through a specific kind of trail with having such an extensive program of performances to be seen. Geography of the represented companies and flexibility of the program structure gave the massive block of observations and insights. Artists from New-York (Robin Orlyn with her "in a the sky surrenders"), from Eastern Europe (Michael Turinsky with his "Precarious Moves"), Africa (Tiran Willemse), Asia (Geumhyung Jeong) and, of course Europe, brought up the values and issues that were being at stake for them. As a Ukrainian artist I experience a certain desire to contribute to the diversity of topics and flavors that were being boiling in the festival's pot on the stage or at the training program either. I hope that for the foreseeable future the program will be even more diverse and inclusive, so that the Ukrainian artists will become part of the program with their teaching, performing and discussion.
My exposure to such a variety of dance performances, international colleagues and trainings enabled broadening of the creative strategies I used to utilize in my work as a choreographer or teacher. Incredibly interesting approach in art-creation of Ceumhyung Jeong gave me a chance to reconsider the role and function of objects in performance. Soundscape of the works made by Simon Mayer / Kopf Hoch also become a wonderful source of new ideas, which I would like to try once. Rhythm and vocalizing in the Mathilde Monnier's "RECORDS" left me amused with its discrete and tactful role in the choreography, though were not new tools in a dance composition for me. "Dances for an actress" by Jerome Bel and production of Jan Lauwers / Needcompany helped me to build up some new ways of thinking about art and the purpose of presence at the stage.
Special words of gratitude needs to be said in account of young choreographers production introduced in the 8:tension series. Mikko Niemistö, Boglärka Börcsök& Andreas Bolm, S. Songi Criem with P. Prjson IV and A. Bakucz Canärio, Tiran Willemse – are those whose performance I was honored to see.  Needless to say, that as a young choreographer I appreciate an opportunity to stretch my overview by watching works made by my peer colleagues.
No less impressive and rich input in my professional evolvement was done with the time spend in studios during the workshops. Due to the presence of other danceWeb and Atlas program members I felt being a part of the strong international dance community, that has something to tell the world. Because we not just danced, but co-created choreographies, improvisations, group dynamics. Exceptionally enriching experience I have got from the workshops for mixed ability groups as far as those areas of knowledge on the methodology and principles of building choreography with people with diverse abilities are in special need for my professional establishment. I am eager to contribute to this art in my country.
The most important thing I have taught as a danceWebber of 2022 edition of the program is the foregrounding belief that as artists we have no other choice as to treat the body as a weapon and dance as a vehicle of world transformation. The cost of negligence in perception dance as not just one of the art form itself is huge, as soon as there is no value in it anymore. I am overwhelmed with gratitude and honor to the festival's organizers and donors for giving this incredible chance to experience art in a full and bountiful way.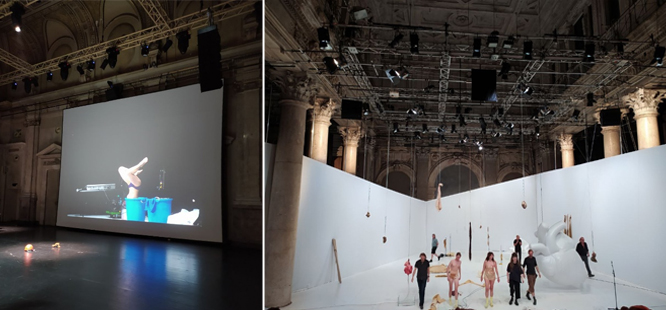 Photo taken by Mariia Bakalo before the performance by Geumhyung Jeong and after the performances by Cladia Bosse