Antony's Report
"Being the first recipient of The Tanja Liedtke Fellowship has been an honour and a true delight. I feel so proud to have been the exponent of its prevailing premise of adventure in choreography. As a friend and colleague of Tanja, I undertook the Fellowship guided by memories of her own energetic spirit, industriousness and robust tenacity. The wonderful works Tanja created remain as shining beacons of what is possible with the imagination and the professional benchmark she set against artists in her sphere. These were the thoughts I carried with me, and their potency served as an ultimate motivational force.
I would describe my time in Berlin as completely immersive. The structured elements of the Fellowship, where I could attend performances and workshops, and the creative residency acted as a framework for me to see, absorb, contribute, experiment, and evaluate. It also gave me the chance to traverse Berlin's colourful cultural environment.
The Fellowship program provided more than ample opportunity for me to experience things on many levels, but the fundamental aspect of simply living in Berlin for seven weeks can not be underestimated. This was revelatory in its value. I saw epic evenings of experimental electronic music at the Sophiensalle, where I forged new artistic partnerships. I met local street artists and painted the Berlin Wall on a sunny Saturday. I negotiated the city streets on a dinky 20 euro bike which fell apart after 3 weeks. I learnt cultural idiosyncrasies like the recycling of train tickets as a form of improvised income for the homeless. I became fluent at ordering my local durem doner kebab! As comedic as this sounds, it was the accumulation of these conceivably insignificant events that made the entire experience impossible to put a value on. This handful of experiences make up fragments of the myriad of encounters I had in Berlin that have challenged, benefited and evolved my life in social, professional, creative and ideological contexts.
I found myself in an environment where my communication and approach to working creatively were challenged in new and quite revelatory ways, awakening a number of creative propositions: What does an image or constructed situation actually express? What does an image represent in a forum without language? How can we create something that addresses the multiplicity of interpretation in art and life? Can we unhinge our personal perception by attempting to distil an idea to a point where we have unified perception? 

Antony's residency at Radialsystem V coincided with the
presentation of Tanja Liedtke's Twelfth Floor in Berlin.
(above) Hamilton with Twelfth Floor cast members Anton and
Kristina Chan
The great personal discovery in all of this was a new understanding that the audience or viewer's truth about what they witness surpasses that of the creator. What the audience sees is the truth. The reality. The creator can not see this. The creator can only see what they have made with all the history that came with making it. This idea was an epiphany. I fully came to realise that I cannot predict or control what the audience will take away from my work. I also realised that I should not be concerned about controlling that either. But most importantly I realised that this was my own unique dramaturgical logic, and it pervades my choreographic interest as a whole. It sounds so simple and elegant once you have the means to articulate it, but to actually locate the principle foundation of what your work is actually about, that's the difficult part. Some people are never so fortunate to discover it at all.
In the first week I attended daily workshops run by New York based choreographer Luis Mara Malvacias. This was a great start to my stay in Berlin. It provided a stabilising platform for me in terms of a daily physical practice. The workshops provided me with rich and practical choreographic information and a palette of ideas that could be implemented later in my own creative development weeks.
I also attended several performances of the Tanz im August Festival. The saturation of my senses with such a plethora of performances was profoundly awakening and invigorating. A number of works had an acute impact on my perspective on performance and its inherent possibilities – such as Ivo Dimchev's Some Faves  and Daniel Linehan's Not About Everything.
The second and third weeks of the Fellowship involved my placement within the rehearsals of Sasha Waltz & Guests at their home theatre RadialsystemV. It took me a while to find my feet and learn who was who. Once settled, I found the rehearsals with the company engaging and immersive. I was involved in creative movement tasks with the dancers and was made to feel very much on equal footing with them in the studio. The dancers themselves were as diverse as you could imagine, all bringing a unique perspective to the work being created. It was a further step deeper into the practices of the local artists and the Berlin scene, albeit in a more established company environment.
In the last weeks of the Fellowship program I conducted my own creative development which was wholly the most satisfying, productive and rewarding component within the Fellowship structure. The studio I worked in was excellent and always accessible. There was no question of what I could and couldn't do in there. I was encouraged at all levels not to hold back creatively, so if I felt the need to make a huge mess and spill paint on the floor, I was made to feel that this was perfectly part of creative experimentation and should be fully explored. So the creative support was really fantastic. Many evenings I worked late into the night with the knowledge that my bed was a mere 10 metres away up a few flights of stairs. Part of the budget was spent on set concepts, and negotiating the construction of these set pieces was very manageable with a number of RadialsystemV's full time production crew available to assist.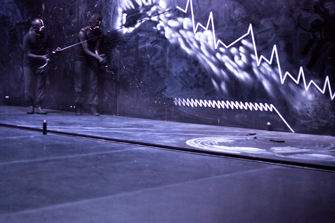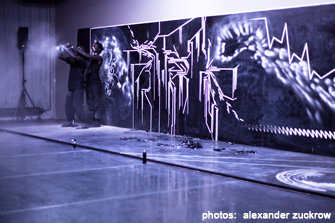 For my creative development component, I worked with another independent artist based in Berlin. Mel Lane is an ex-pat from Canberra, and we had made work over ten years ago while studying in Perth at WAAPA. This reconnection of artistic ties has fostered what I believe will be an ongoing working relationship in some way. Together we developed the rumblings of a new work entitled Black Series 1. We plan to re-visit Black Series 1 in the near future and I am already looking for presentation opportunities here and abroad. I'm happy to say that the project was creatively satisfying for both of us, and I was also happy to see the benefit of the Fellowship funding able to extend it's support to another independent Australian artist living and working in Berlin. Future activity on this project either here in Australia or in Europe is assured.
The public showing Black Series 1 was very useful in terms of exposure of my work to the Berlin scene and I believe even this small showing to an audience made up mainly of local artists was very beneficial.  The only negative aspect to the showing, which is entirely subjective, was a pressure I placed on myself to present something quite polished and this inhibited my ability to experiment with my ideas to a degree. But this was something in my control and it would be up to me to avert it. In a positive turn around, I presented my work privately for Sasha Waltz, and on this occasion we were able to have a constructive purposeful conversation about the work. She gave insightful and practical feedback on the work which was of great benefit.
In terms of the work's relationship to my experience in Berlin, I can say that the city itself, it's art, it's mood and it's atmosphere all played a major part in shaping the piece I developed. I am pleased to report that the Fellowship's major outcome, Black Series 1 has already extended its reach back home in Australia. A presentation and discussion opportunity arose in November 2009 with Lucy Guerin Inc's First Run evening. First Run is a monthly event designed to allow choreographers the opportunity to present a work in progress to a mixed audience, followed by analysis and critical dialogue about the content. I was able to show the DVD of the Berlin presentation. This allowed the public back home to see a good example of the scope of the Fellowship and the support it gives to individual artists. Also, this was a critical outcome I had intended to fulfil, and sharing my work in the local Melbourne scene was of paramount importance to me.
Another noteworthy and unplanned event that happened as a result of Berlin's spontaneity was a collaboration with bass player Clayton Thomas on a work presented as part of Lange Musiknacht. This was an evening of music performed by Australian artists at RadialsystemV, and it was also the opening night of the Australian Hybrid Arts Festival.
Clayton and myself performed an improvisation duet of music and dance entitled 'Bit'. This related to the framing of bodyparts and sections of musical instruments so the audience could only see 'bits' of them. The work was fraught with tension and a vibratory atmosphere. It was an exciting and unpredictable event that possessed all the elements of a compelling performance.
For me, this was the very kernel capturing the essence of the Fellowship's fundamental sentiment: the spirit of adventure in choreography. It was not only this, as it also captured the spirit of adventure in a broader context. It expanded social and professional associations, invited cross-pollination of artistic disciplines and heralded a new generation of Australian artists to Berlin audiences. In this light, the Fellowship was a remarkable success and I am humbly proud, as the inaugural Tanja Liedtke Fellow, to have been custodian of what the Fellowship represents and aims to do".
Antony Hamilton  –  February 2010