ADT in Adelaide – construct under the direction of Kristina Chan
Kristina Chan
A letter from Kristina Chan
Original collaborator/performer and current Remount Director

2017 marks ten years since my dear friend and colleague Tanja passed away. Funny, witty and cheeky to her friends, driven, committed and high achieving to her colleagues and peers, she was inspiring, supportive and generous to all that knew her.
This year also marks ten years since she brought together a small group of friends to make a little show called construct. Tanja, Paul White, her partner Sol Ulbrich and I made something out of not much, creating and preparing in Adelaide for a premiere at the Southbank Centre in London, followed by a tour around the UK. There was a lot at stake as the work hadn't yet been made when the tour was booked, which is fairly unheard of in the world of independent dance. But people believed in Tanja and were willing to take those kind of risks. This would be the final work she would make as an independent choreographer before taking up her biggest challenge yet, the role of Artistic Director of Sydney Dance Company. Her choreographic future was looking bright, but as it turned out construct was the last work she would make. This is just one reason that construct has sentiment. Apart from being one of the most physically demanding works I have ever performed, the bond we made making and performing it concreted our friendship and committed our practice to making work with integrity. This was the true gift that was given to me during this process.
After Tanja passed we had to form an even tighter bond to continue into the future without her. We toured construct nationally and internationally, sharing our sacred space with more special people who performed the role Tanja made for herself – Alessandra Mattana, Lisa Griffiths and Charmene Yap. We continued to build friendships and trust, supporting each other through grief and celebration as time and memories blurred.
Ten years later I am standing on the other side of it all creating a space for new relationships to develop within, and to, the work. Now having a new role in construct as Remount Director, it is my job to pass on the knowledge and experiences that Paul, Tanja, Sol and I shared in making and performing this work. Tapping into memories of my body and mind, and the occasional skype rehearsal with Paul, I attempt to maintain the integrity of the work, imagining how Tanja might want it to look and feel.
Not only is it timely to bring construct back to life in 2017, but to do so in the place it was created and with the company where Tanja, Sol, Paul and I met, dancing together and beginning our careers in dance – I couldn't think of a more significant place and time to celebrate the life of Tanja and her work. I would like to thank Garry Stewart, ADT and the exceptional and highly capable new construct cast, Kimball Wong, Jana Castillo and Marlo Benjamin, for making this happen.
construct
2nd December 2017 at 1.30pm. 
29 November – 2 December 2017 / The Space Theatre, Adelaide Festival Centre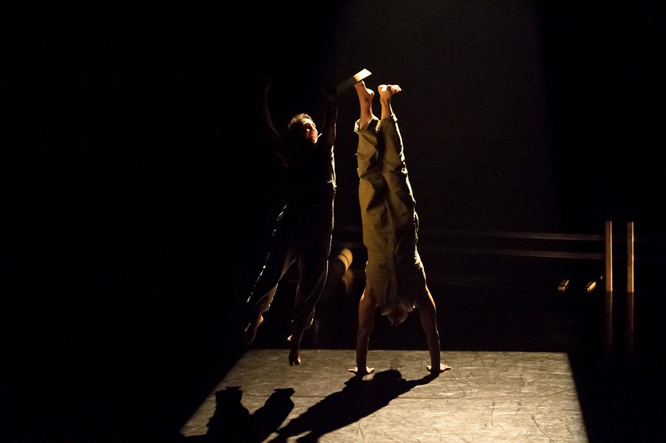 Image: Dancers Marlo Benjamin & Kimball Wong. Photo by Chris Herzfeld.
Reviews
"The three dancers are exceptional: they dance superbly and their inner spirits capture the myriad moments that make us human. There are beautiful solos, duets and trios that provide moments of absolute beauty and skill" – Greg Elliott, InDaily
"The three dancers are intense, excitingly vital, athletic and assured. The whole production is a great tribute to Liedtke. She would have been pleased" – Alan Brissenden, The Australian
"Kimball Wong, Jana Castillo and Marlo Benjamin manage, with fierce impassioned commitment, a work of exacting physical demands that shifts from comedy to deep emotional drama. Construct is such a purely, deeply human work at the core" – David O'Brien, The Barefoot Review