Garden of others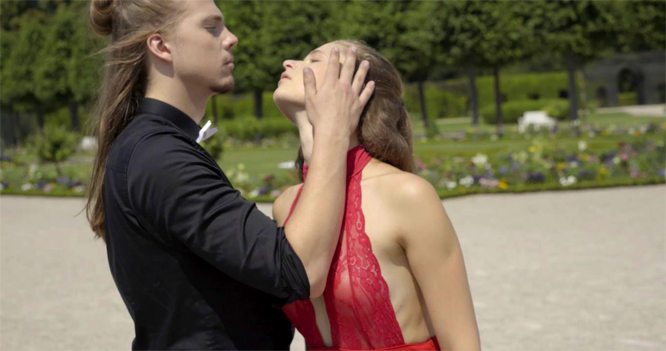 Fabian Modin and Anamaria Klajnscek in "Garden of Others".
Thanks to the kind support of Tanja Liedtke Foundation, the aspiring dancer and choreographer Pascal Sangl could realize his vision of a high quality dance short film called Garden of Others. Within one year Sangl has managed to gather a creative team of twelve young artists from Germany, Hungary, England and the Netherlands.
This year, they have all travelled to Southern Germany in order to shoot the film at Wachenburg Weinheim and the baroque gardens of Schwetzingen Palace.
Garden of Others is inspired by today's younger generation using technology in order to meet potential lovers. In the digital world self-portrayal is the key! The level of connection within romances has flattened in response to a daily routine of swiping people to the left or right side of a phone. People are being judged and judge others based on the impression of a single picture. Physical fitness and beauty are often all that matters.
"We stay on the surface and swipe away the other as soon as it gets difficult."
Garden of Others features four young dancers in an environment of deceiving perfection. They follow the herd and most never question the path. The piece urges the viewer to reclaim their ability to be trustful and sincere, willing to connect and discover their self-worth.

"Stop swiping, start dancing."
The film is currently in post-production and has just released its' first teaser.
To see it go to vimeo.com/232070631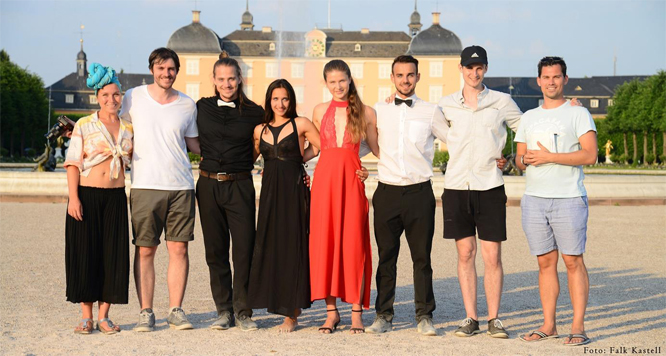 "Garden of Others" Crew & Cast: Agnes Pataky (make-up artist), Andras Gravi Kiss (director of photography), Fabian Modin (dancer), Qadira Oechsle-Ali (dancer), Anamaria Klajnscek (dancer), Jarek Kruczek (dancer), Pascal Sangl (choreographer and director) and Zsolti Szabo (producer). Not in this picture: Laura Winkler-Vetter (costume design), Gwenda Winkler-Vetter (assistant), Meikel Fucks (drone operator) and Falk Kastell (photographer).