Life in Movement
Tanja – Life in Movement continues to be screened around Germany, Austria and Switzerland.
---
Tanja – Life in Movement
European cinema release
At last the documentary Life in Movement has been released in cinemas in Europe. Following the premiere in Berlin on the 27th of October, the film will be seen across Germany, Austria and Switzerland. A full list of cities and cinemas, where this documentary can be seen, can be found at:
http://www.tanjalifeinmovement.de/index.php?page=termine
The Berlin premiere was attended by Tanja's family, as well as Paul White (one of Tanja's close friends and artistic collaborators) and many of the Berlin dance community. We are sure that European audiences will be inspired and enthralled by this truly remarkable film.
Here the press releases:
Artechock München
http://www.artechock.de/film/text/kritik/t/taliin.htm
Programmkino.de
http://www.programmkino.de/cms/links.php?link=2264
Tanznetz.de
http://www.tanznetz.de/blog/26045/but-i-have-hope
Filmdienst
http://www.filmdienst.de/nc/kinokritiken/einzelansicht/tanja-%E2%80%93-life-in-movement,542319.html
Kino-Zeit.de
www.kino-zeit.de/filme/tanja-life-in-movement
FAZ.net
http://blogs.faz.net/tanz/2013/10/26/tanja-life-in-movement-kommt-in-deutschen-kinos-448/
Filmgazette
http://www.filmgazette.de/?s=filmkritiken&id=1094
Exberliner.com
http://www.exberliner.com/culture/film/life-in-movement/
Player Leipzig
http://www.playerweb.de/kino/tanja-life_in_movement
Tagesspiegel
http://www.tagesspiegel.de/kultur/die-gebrochene-blume/9019772.html
Süddeutsche.de
Kurzkritiken zu den Kinostarts der Woche Tanja – Life in Movement
---
On many international flights such as Lufthansa, Qantas, Cathay Pacific and others Life in Movement is shown at their documentary movie-section.
http://lifeinmovementfilm.com/screenings.htm
---
Since its premiere in March 2011, Life in Movement has collected many awards from all over the world. The film received yet another award at the 2012 Australian Dance Awards. The film's director/producers, Sophie Hyde and Bryan Mason (Closer Productions), were awarded the Outstanding Achievement in Dance on Film, as this inspiring documentary film continues to share Tanja's story with so many different audiences.
See:
http://www.australiandanceawards.net.au/award-winners/outstanding-achievement-in-dance-on-film/bryan-mason-sophie-hyde
---
Following the successful cinema release across Australia in April 2012, Life in Movement (Closer Productions) continues to be seen in more venues and is due to be released on DVD Nov 2014.
Set to an atmospheric soundtrack, the documentary is immersive and engaging, as it mimics the playfulness and poignancy of its subject. …  A haunting exploration of creativity, its inspiration and impact, Life in Movement offers a tender and thoughtful portrait of an irreplaceable artist.
 …Sarah Groves, film review published in Artshub, April 2012
Life in Movement has won the prestigious 2011 FOXTEL Australian Documentary Prize.
The award was announced on the closing night of the Sydney Film Festival, and follows the earlier award for Best Feature the South Australian Film Festival's Screen Awards. TLF warmly congratulates producers/directors Bryan Mason and Sophie Hyde (Closer Productions) for their continuing success. http://www.sff.org.au/public/news/the-2011-foxtel-australian-documentary-prize-winner-is/  
More Awards: Life in Movement (Bryan Mason and Sophie Hyde – Closer Productions) is the winner of the Diaphonite Jury Prize at the 2011 Cinedans Festival in Amsterdam….and….. Life in Movement was also a winner in the Public Choice category, sharing this award with Jiøí Kylián: Mémoires d'Oubliettes (Don Kent). These prestigious awards are truly significant in the world of dance film, and films about dance. Congratulations to everyone involved. A wonderful honour to Tanja, Bryan, Sophie, their production team and all the artists!!!
Life in Movement – the documentary about Tanja Liedtke is enjoying further successes since its premiere in March 2011.
Congratulations to Sophie Hyde and Bryan Mason on winning BEST FEATURE at the 2011 South Australian Screen Awards. (The award has enabled 3 screenings at the Mercury Cinema in Adelaide – check http://www.closerproductions.com.au/ for times.
Life in Movement is one of 10 films in the running for the
2011 FOXTEL Australian Documentary Prize at the Sydney Film Festival.
The documentary about Tanja Liedtke, Life in Movement  had its world premiere at the Adelaide Film Festival in early March of this year. The film was produced and directed by the multi award winning team, Sophie Hyde and Bryan Mason of Closer Productions. The film provides an insight to Tanja's life as an artist, her determination and her love of the language of movement art. The film stands as a testament to the work Tanja created with her close collaborators. As her work tours internationally, her collaborators reveal their memories and process their grief over her sudden death while Tanja continues to inspire through previously unseen interviews and footage of her compelling process.
For information about the film and to participate in feedback chat:
http://www.closerproductions.com.au/sp_lim.htm
For a review of the film:
http://www.adelaidenow.com.au/entertainment/festivals/life-in-movement/story-e6free0c-1226017013317


Photo: Julian Crotti
Learn more by going to:
http://www.facebook.com/lifeinmovement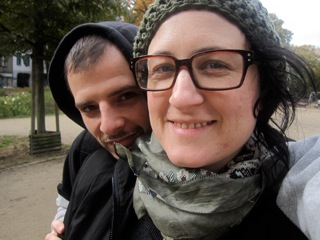 Photo: Bryan Mason & Sophie Hyde during filming for Life in Movement in Germany, 2009.
---
Life in Movement in press:Those who have attended the screenings of Life In Movement are likely to have been fortunate enough to see Tanja Liedtke's work in live performance. Those who haven't been so lucky, I would urge nonetheless to catch a screening where you can, for it is all the same a good way to see a fraction more of arguably Australia's greatest contemporary dance choreographer. The equivocator applies only because her life was cut short, as Tanja Liedtke was fatally struck by a garbage truck one night as she was out walking, at only twenty-nine years of age. She leaves a repertory of over twenty works. Her only two full-length works feature in Life In Movement, which was made eighteen months after the artist's death, and follows the final world tour mounted by Liedtke's partner, Solon Ulbrich, and her original dancers. The performance footage is clear, as is the ongoing grieving for Liedkte–in this particular case, as a partner, dear friend, a daughter and sister. The people we hear from in the film are all intimates, and the film itself is a close, personal tribute to her that while airless and partial has the gravitas of a love letter–and while tears are not optional, once in a while you might have to look away. It is humbling what Ulbrich has chosen to share: most personal and beautiful images of Liedtke, and more vitally, home video footage of her; dancing in the bathroom, working out ideas in the living room of their Sydney apartment. For those acquainted with her work, some of her movements will be familiar, for instance the snaking hips and tick-tock head and fingers. We are fed elegant filmic liaisons between Liedtke's past and her works that are really very beautiful, and it is possible more beautiful than true. I think it wise to keep in mind while watching that this is a memoir and true in ways that are deeper than objectivity can provide and false by equal measure. There isn't quite enough of Tanja Liedtke to fill it but it radiates the urgency with which she operated, a mere glimmer of the heat of her internal furnace. And the faith in her from her dancers, speaking more Liedtke than words, is palpable. The film wants us not to forget Liedkte, but it doesn't go not far enough in elucidating her genius for those who don't already know of her extraordinary gift for showing the beauty of what was right under your nose. And Liedtke, one of few great choreographers to represent the twenty-first century, let alone Australia, is right under our nose. Penelope Ford, Australian Journalist