ADT in Heidelberg – construct under the direction of Paul White
To commemorate the 10-year anniversary of the passing of prodigious talent, Tanja Liedtke, Australian Dance Theatre presents the return season of construct, an extraordinarily complex and detailed piece, performed with great wit, clarity and emotion.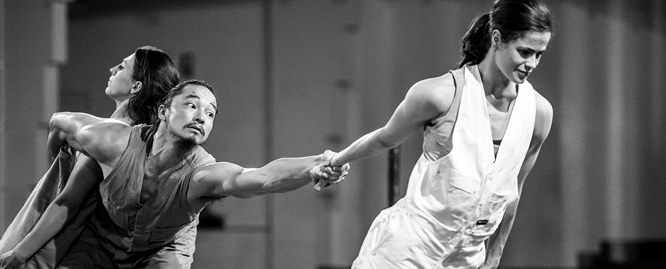 construct on stage in Heidelberg/Germany on 01.03.2018
We want to thank ADT and all the most wonderful people involved to get construct on stage in Heidelberg/Germany.
It was not created to be a rehearsal work, but now it is a building block for dance history and we want to enjoy it as that.
We had full house, most guests stayed after the performance for the Q&A and than for the Documentary Tanja-Life in Movement.
Paul White said after the show:
"It was a great show in Heidelberg. I was so very grateful to have the chance to see the piece from the outside – something I NEVER had imagined!
… and I think they did a great job. I cried and laughed and felt many things during the show – which means it worked!
… and 6 bows of applause!! Who gets that?
… and it was a delight to work with those dancers and the crew."